Are you looking for a stress free Christmas shopping experience?
If you are interested in finding unique, handmade Christmas gifts then there's plenty of places you can get them if you live near Dundee or are in Edinburgh.
I don't know about you, but I hate waiting in queues and being totally stressed out shopping in the highstreet stores for Christmas presents. I'm also sick of seeing the same things every year. If you are looking for unusual gifts for your loved ones this year, there's lots of Christmas craft fairs that you can visit to pick up some really unique presents.
*****THIS SUNDAY*****
1. Wasps Designers and Artists Christmas Market Sunday 25th November 
Meadow Mill, Level 4, West Henderson's Wynd, Dundee, DD1 5BY
11-4pm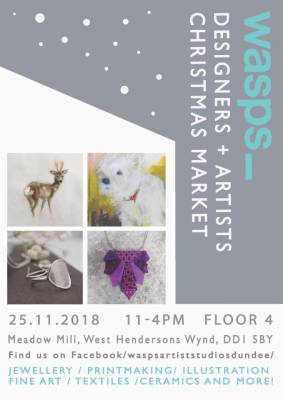 Jingle Bells we've got art and design goodies to sell!
The much anticipated fabulous WASPS Christmas cracker Designers and Artists market is back and now in it's 5th year! A wonderfully festive event with sparkly handmade items by our ridiculously talented tenants AND a gorgeous of few of Dundee's well known creative guests to boot.
Come and get merry with us, a cosy glass of mulled wine in one hand and all
your handmade gifts in the other.
WASPS
Jennifer Robson fine art originals, giclee prints and greeting cards
Anne Watson Jewellery
Andrea Sayers Fine Art Originals, printmaking and greeting cards
Neil McIntee Fine Art Originals and tshirts
Genna Delaney Jewellery
Isolated Heroes clothing
Dreamland clothing
Robin Bell Jewellery
Just Judith Textiles
Freya Cumming Printmaking, Gifts and Greeting Cards
Steph Liddle Ceramics
Louise Kirby Gifts and Greeting Cards
Holly McAfee Jewellery
Theresa Lynn Fine Art
Yasmin Lawson Fine Art Originals, Gifts
Matilda Tumin Fine Art
Guests
Elizabeth Humble
jewellery
Kristy Doig Ceramics
Whimsical Lush
Cathrine Holtet Ceramics
Cr/aft
Islay Spalding Jewellery
Katie New Jewellery
Charcot
2. Genna Delaney VIP launch night Thursday 29th November 7-8.30 pm
Blend Coffee Lounge, Reform Street, Dundee, DD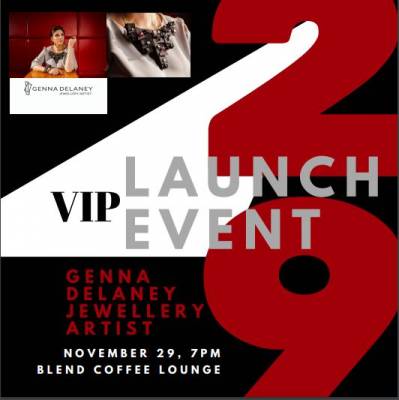 Join us for festive fizz and nibbles to celebrate 12 years of Genna Design. I'm having a VIP Launch Party to celebrate the launch of my new brand Genna Delaney Jewellery Artist and New Formation collection.
The collection evokes a strong sense of Female Empowerment, Beauty, Architecture and Geometry. Strong women inspire my creations to stand bold and be proud of their individuality and femininity.
Try on jewellery, get pampered and have your photo taken on the night.
I'm hosting a raffle on the night to raise money for The Fawcett Society who promote gender equality and equal rights. I'm donating a piece from my new collection and there will be lots of other goodies to win.
Studio 54 will be doing hair and make up
Stephen Salvona photographer will be doing a selfie station
For more information about the event, head to eventbrite to get your ticket there's a limited amount of tickets available.
3. 5by20 Coca-cola Challenge – Exhibition and Trade Show
When: Friday 30th November 12.30-5pm
Where: Apex City Quay Hotel and Spa, Dundee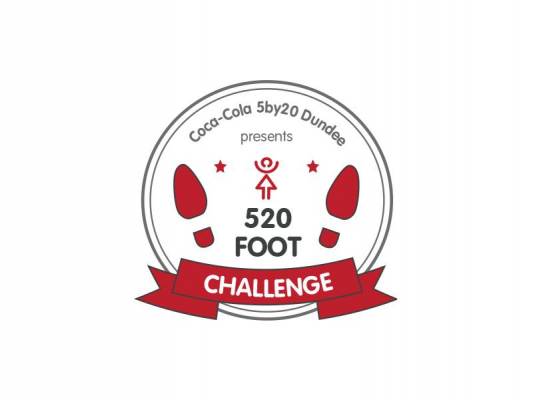 We are kicking off Christmas shopping on November 30th with our first ever Coca-Cola 5by20 exhibition and trade show at the Apex Hotel. We are aiming to get 520 pairs of feet through the door to meet and trade with over 40 of the inspirational business women who have been part of the Coca-Cola 5by20 programme.
Join us from 12.30pm on Friday November 30th to get started on your Christmas shopping and support the amazing work of local business women. Help us get to 520 pairs of feet and be in with the chance of winning amazing prizes on the day.
For more info about the event, head to facebook https://www.facebook.com/events/248520295839283/
4. Etsy Made Local – Dundee
Wasps Studios, Meadow Mill, DD1 5BY
Saturday 1st December 11am-7pm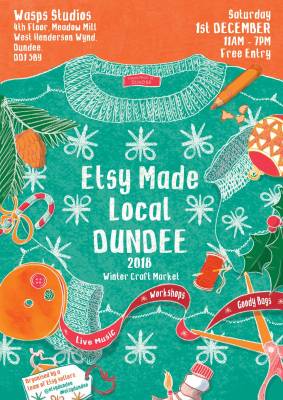 5. 3d/2d Christmas Art, Design and Craft Fair
The Assembly Rooms, Edinburgh
Saturday 8th – Sunday 9th December
10.30-5pm both days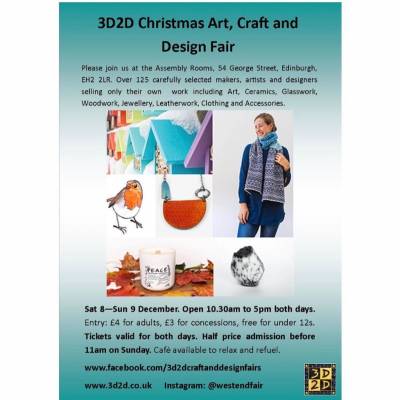 The Assembly Rooms on George Street in Edinburgh is a beautiful, luxurious venue. So if you are looking for a luxurious shopping experience Join over 125 carefully selected makers, artists and designers, selling their own handmade products. Make Christmas special this year.
MY LAST FAIR OF THE YEAR WILL BE…..
6.Urban Market West Ward Works, Dundee (Part 2)
Market Opening Times: 11am – 5pm
Location: West Ward Works, Guthrie Street, Dundee DD1 5BR
15th & 16th December
 *******I AM EXHIBITING SATURDAY 15TH DECEMBER ONLY********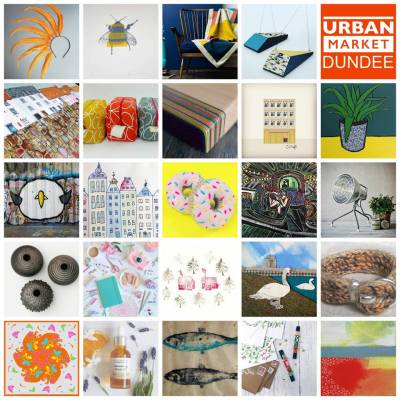 Whether you're a super-organised early bird when it comes to Christmas shopping or a last minute present grabber (like most of us at UM HQ!), here's what you can expect to find at both of these weekend markets…

Original art, textiles, furniture, lighting, jewellery, homeware, vintage clothing, mid century, vintage, antiques, illustrations, ceramics, upholstery, woodturning, bags, weaving, zero waste products, candles, linocuts, upcycling, t-shirts, children's clothing, photography, beard care, headwear, botanicals, skincare, scarves, hats, chocolate, nut butter, gin, vodka, beer, hot chocolate, waffles, cheese, cakes and lots, lots more…
There's also workshops in lino cutting, candle making, puppet making, stencils, punch needling and more to confirm.
AND a children's activity corner under the watchful eye of Nicola Wiltshire – Artist
AND a cafe takeover from the incredible Parlour Cafe along with a bar. The Parlour cafe
DO NOT MISS IT!!!!! Gather friends, family and furry pals, wrap up well and head down to West Ward Works.
Urban Market Christmas Part 2 FB event page – here's the link
Do Christmas Shopping Differently
Shop. Eat. Drink. Unwind. Repeat.Child and dog friendly, free indoor market.
DO NOT MISS IT!!!!! Gather friends, family and furry pals, wrap up well and head down to West Ward Works On Saturday 15th December.
I hope you find this blog post useful and it helps you to make Christmas more special this year. Support local makers and buy handmade because…..